Our Fellows
Introducing some of the fellows that have participated in one or more SULAT workshops...
Reine Arcache Melvin
A Filipino-American author born and raised in Manila focuses on the Philippines and the lives of Filipinos both at home and abroad. Her short-story collection A Normal Life and Other Stories won the National Book Award for Fiction, and The Betrayed won both the National Book Award for Fiction and the Palanca Grand Prize for the Novel. The Betrayed is published this year in the UK, Italy, and the United States by Europa Editions.
Carla Montamayor
Carla was born and raised in Manila, Philippines and is a first-generation immigrant in Britain. Since attending the SULAT workshop in 2019, she has been shortlisted for Spread the Word's Life Writing Prize in 2020 and received a London Writers Awards for narrative non-fiction in 2021. Her piece The Shapeshifters was nominated for a Pushcart Prize by the editors of Hinterland Magazine, and she was shortlisted for the Specimen Prize for UK writers living between two languages. She writes mostly creative non-fiction and is working on a memoir.
Anne Elicaño-Shields
Anne is a London-based Filipino writer. She is working on edits to her debut novel, a YA/speculative fiction story. Her literary awards include: The Promise Prize (2021; FAB Prize/Faber and Faber), London Writers Awards (2021; Spread the Word); BESEA Free Read Award (2020; The Literary Consultancy), Tom Howard/Margaret Reid poetry contest semi-finalist (2020), and the International Essay Contest for Young People (2007; Goi Foundation, UNESCO) winner. She has an MA in Journalism with Distinction Honours from Sheffield University.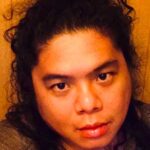 Rogelio Braga
Rogelio Braga is an exiled playwright, novelist, essayist, and a political activist from the Philippines. He published two novels, a collection of short stories, and a book of plays before he left the archipelago in 2018. Unable to return home due to the deteriorating state of human rights and freedom of expression in the Philippines, Braga is the first Filipino writer who fled to the United Kingdom seeking protection from persecution, state harassment, and censorship since Duterte came to power in 2016. He was a fellow of the Asian Cultural Council for theatre in Southeast Asia in 2016 and a recipient of the Don Carlos Palanca Memorial Awards for Literature for his fiction. Braga is being supported by Kanlungan Filipino Consortium as one of the hundreds of vulnerable Filipino migrants living in London today and currently volunteers for Campaign for Human Rights in the Philippines (CHRP). Miss Philippines is his debut play written entirely in his second language, English.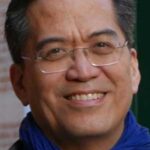 Jovi Juan
Jovi Juan is an artist, writer, and technologist living in Roxton, England. An internationally exhibited artist, he spent several years as a film critic and feature writer and has produced and directed documentary films in the Philippines, New York, and London. From 2006-2020, he led interactive graphics teams at The Wall Street Journal as art director and technical director, where his work garnered wide recognition from The Loeb Foundation, the Society of News Design, The Webby Awards, and The British Journalism Awards.